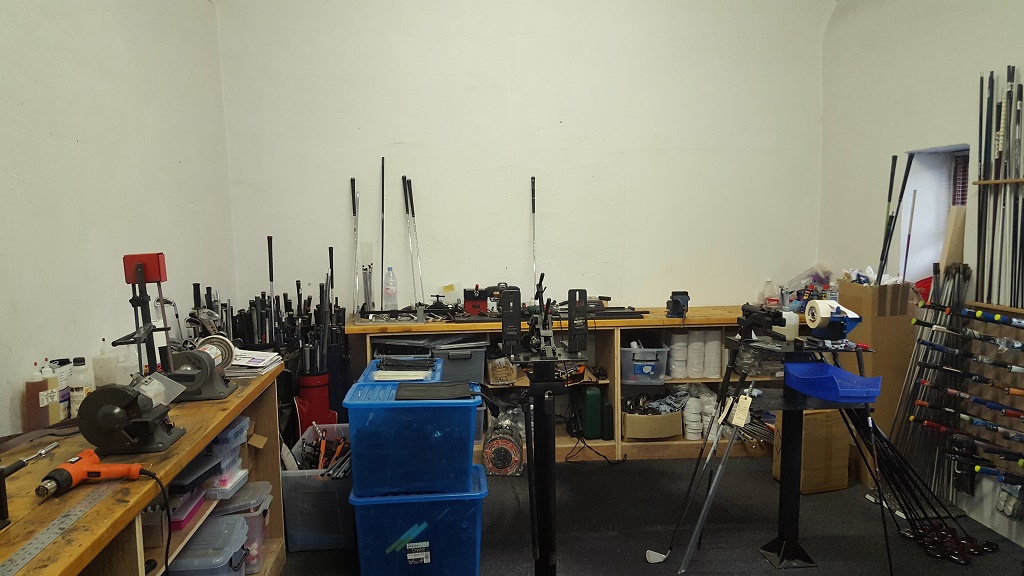 .
Fitting new golf grips and replacing golf shafts
| | |
| --- | --- |
| Golf regripping services,  a wide range of golf grips brands to specialized putter grips & etc. | €3.00 – €45.00 per grip fitted  |
| Replace broken shafts within 24 hours from graphite shafts |  From €25.00-up based on the shaft |
| Regluing shafts into club heads, | € 5.00 per club head |
| Shaft/clubhead adapters for Ping, Callaway, Taylormade, Titleist & etc. | €25.00 per adapter   |
| Replace broken shafts within 24 hours from graphite shafts | From €20.00 per shaft fitted |
We can fully replace and refit all types of golf shafts. Should you require your golf irons to be completely refitted, please contact us and we can supply you with a cost for that service.
Adjust and check lofts on your forged, cast metal irons or putter 
| | |
| --- | --- |
| Loft & Lie Adjustments, | €5.00 per club adjusted  |
We can check your golf club's loft & lie angles and adjust the angles to specification
In-consistence lie-angles often cause good golf swings to send the golf shot further left or right of the golf target. Furthermore, during a normal standard flat lie golf swing and as the club head strikes a golf ball. Identifying the bottom of your clubhead or leading edge fo the club needs to be parallel to the ground on impact. This may add to the ball to travelling further off-line regardless of how well the golfer strikes the golf ball. If you use forged soft metal iron heads, make sure you regularly check your clubs for the correct lie and loft angles.
Club Customisation using TrackMan technology
| | |
| --- | --- |
| Ping Golf |Taylormade & Titleist Driver Customised fitting | €60 per 1/2 hour. |
| Mizuno Golf Iron club fitting session | €60 per  1/2 hour. |
The TrackMan Pro measures the full trajectory of any shot, from 6-foot pitches to 400-yard drives, pinpointing the landing position with an accuracy of 1 foot at 100 yards. Thus, delivering specific data without using any modelling. Also, TrackMan Pro displays the shot's actual 3D trajectory together with 26 impact and ball flight data in real time. Impressive!
Golf Club Repairs Cork
At John Dooley PGA we have a full golf repairs workshop located on site. We can handle just about every golf repair's job that is possible and if it can be done, we can do it. We offer the fastest and most professional golf repairs service available to golfers in the Munster area.  Above all, our attention to detail is second to none. For your golf club repairs in Cork contact us today. Mobile: 0879277997 or email john@johndooleypga.com