Setting Golf Goals Create Golfing Goals
I strongly recommend setting goals to improve at golf and golfers should create golfing goals. From time to time, I come across golfers that explain their goals vaguely and their goal tends to be too ambitious to achieve. Such as, I want to reduce my handicap by 3 shots and I would like to achieve my goal in a month or six weeks or three months. A goal should be defined, take the S.M.A.R.T approch to define goals. Mainly I would describe a good goal to be specific, measurable, agree to do it, realistic and timely.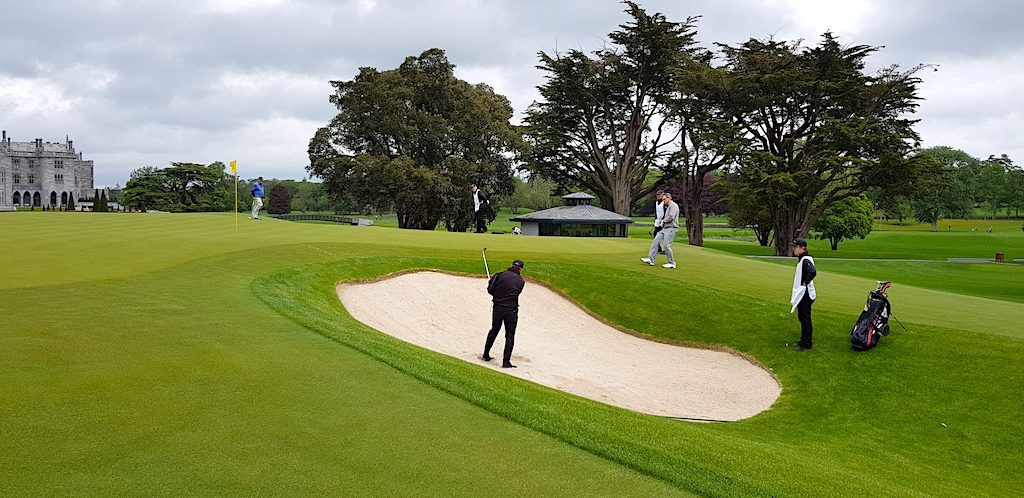 There is nothing wrong with a goal that is very ambitious. However, add lower level goals that will help to achieve the high-level goal. Merely creating the lower level goals are keeping one's interest and motivation to make the high-level goal.
For example, this is John Jack the golfer from Paddyland golf club.
Currently, JJ posts his competition scores between 28 – 34 points weekly. JJ would love to cut his golf handicap from 15 to 13. So JJ sets his main goal to cut 2 shots off his handicap. To do achieve his goal, he plans to work with his local PGA Golf Pro over a course of golf swing lessons and that should do the trick! JJ feels that his driving is the main problem. After 4 golf lessons, JJ is hitting the ball a lot better but still can't understand why he is not posting better scores. But JJ maintains that the rest of his game is good and all he needs to do is more practice.
After lesson number 5 the golf becomes frustrated with his progress and decides to stop taking lessons and reverts to youtube for his inspiration!
Well now, looking for golf game advice from YouTube clips is the worst strategy any golfer can undertake. Because it is likely that the youtube clips identified may not apply to the swing problem. Also, its really likely that the golfer will not apply the information correctly, thus resulting in a bad state of golfing affairs.
What I say!  The Goal Journey to Create Golfing Goals
The primary goal is good at 2 shots, ber ambitious and it is crucial to think epic thoughts on goal creation! To start off the goal-setting process, pick out what you would like to achieve. In addition, I would recommend 6 golf lessons over four months.
During the first month. The golfer will perform analysis how he plays during a competitive round by recording the following information. How many shots taken per hole, how many GIR (greens in regulation), how many fairways, how many pitch shots landed within 15 feet of the hole, how many ups & downs, how many putts per hole. This information would be recorded to identify trends. There are all sorts of tools available to record golfing data such as golf game & etc. Also, golfers can create a workbook on excel or google docs to record data. Mainly, we identify performance trends from that data gathered.
From the golfer's data, it's easy to identify where the golfer is not performing. Now we can clearly define what areas of the game to work on without guesswork. Therefore, we can add smaller goals and update accurately the goal journey such as working on putting to putting stats and etc.
Indeed it will take you some work to identify what you are your golfing goals. But the results will be so much better than not setting any goals. Should you need an excel file to record data, please contact John at this link.
Post by John Dooley PGA | Cork Golf Lessons to create golfing goals.
Notably, Contact US | john@johndooleypga.ie | Tel. +353879277997 | www.johndooleypga.ie