Contact us to arrange a Mizuno golf club fitting today

Mizuno MP20s
The Mizuno MP20s Club Fittings is a quick blog post about the latest range of new golf clubs released by Mizuno. Yes JPX family are still available and ready for golfers to test the clubs during a demo day or a club fitting experience.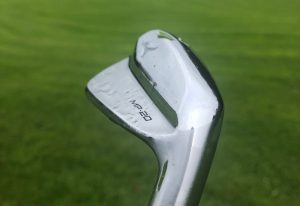 The MP-20 series of golf clubs from Mizuno for club fittings in Cork. Indeed, the Mizuno range of clubs offers golfers a selection of heads that are looking for a precise club for feel and consistency.
The MP-20 series is comprised of 3 models.
A. MP-20 Blade & MP-20 Leftie SEL
B. MP-20 MMC
C. MP-20 HMB
My first impressions after hitting a number of shots the MP-20 muscle back. Notably, is that the Mp20s club felt nice, nice ball flight and a nice blade to use. Also, the look of the club is in keeping with the traditional Mizuno blades of the past. Additionally, I felt that the MP-20 model is the best club produced in a while. Finally, the MP 20 club head range has a copper underlay before the nickel-chrome is added to finish off the club. Interestingly, the copper plating is for enhancing the golf shot feel.
Namely, the club MP-20 HMB (Hot Metal Blade) is a finer version of the MMC.  Famously, all the Mizuno models are designed to be easily mixed for custom sets.  Whereas, a set can be made up of blades and muscle backed clubs, PW – 7 iron MP-20 and 6-4 Iron MP-20 MMC.
One of the charms is that the left-handed golfers can buy Mizuno blades for the first time since the old MP-68. Notably, only from 5-PW with the MP-20 HMB 3 and 4 iron as part of the MP20 SEL. Specifically, the SEL model is a special edition blade released for left-handed golfers only.
The popular SC – the MP18 SC is now changed, the Mizuno's engineers have reduced the size of the MMC mid and short irons. Thus, both the previous MMC and SC are now just one model. But don't decide based on what looks great in a golf bag.
Finally, take the time out and book a club fitting session today and test out which clubs suit your game. Mizuno MP20s Club Fittings located at Riverstown House, Glanmire, Co. Cork.
Notably, Contact US | john@johndooleypga.ie | Tel. +353879277997 | www.johndooleypga.ie