The Golf Covid19 Practices and policies
Suggested ideas for Golf Courses to adopt based on current Golf Coivd19 Practices and guidelines 2020.
The information suggested is gathered from varied sources, such as the R&A, PGA and Irish Government best practices. I would have concerns about the R&A's suggested method self-policing scores for golf competitions, and an interactive scorecard for all players in the group would be a solution to avoiding personal contact.
There are additional suggestions based on my own knowledge of golf course operations. However, the goal is to provide helpful information for making a plan for Golf Covid19 Practices.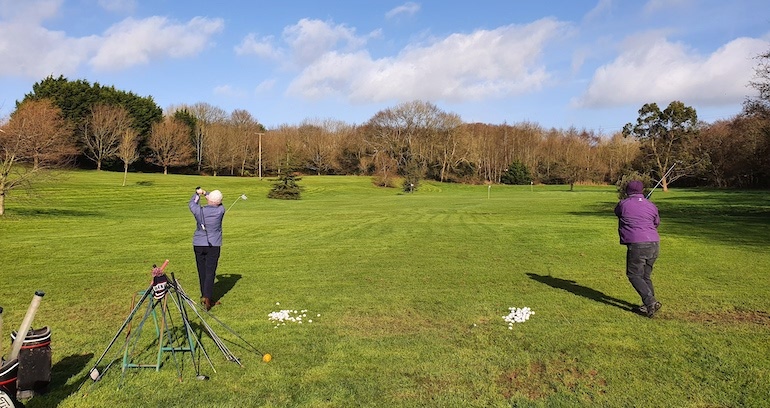 I have taken nine points to consider and the considerations are as follows:
The Golfers Responsibility.
Golf Lessons and Club Fittings.
Booking and Reservations.
Golf Club Members
The Clubhouse
Food and Beverage,
On the 1st Tee
Playing on Course.
Apres Golf
Clearly, it is in everyone's best interest to social distance and not touch anything. Therefore reducing the risk of any community infection. My main message is that the post is not telling you what to do, but by keeping yourself safe, you are keeping others safe.
The Golfers Responsibility:
The Golfer should wash his/hers golf equipment before arriving to play golf and after golf is played.
Do not use other golfer's equipment during a round and avoid coming into contact with any other golfer's equipment.
In the unlikely case that an on course sanitizers are empty, please do carry your own pocket hand sanitizers at all times.
Currently, golfers should travel to the course alone, or with a member of the same household.  ‹
Ensure to park in spaces available and ensure social distancing at all times.
Golfers should arrive at the course no more than 20 minutes prior to reserved tee time. Or at a time where he/she can warm up on the practice ground and arrive at the 1st tee 10 minutes before play.
Please observe social distancing at all times,

Arrival to the course
During the game
Finally on departure

Locker rooms are closed, bathrooms have limited access
Be ready to play on arrival and change footwear in the car park
Golfers should be able to check-in online where possible and play in an orderly fashion.
Golf Club Fitting & Golf Lessons Best Practices
All golf club fitting will adhere to the following guidelines ensuring the safety of both customers and PGA Professional.
Club fittings may only be pre-booked and a confirmation email must be received with the time and date of the appointment.
Sanitisers are available before, after and during the session.
Indeed, each golfer will be notified with the current procedures in place.
Notably, a strict 2-metre social distance must be at all times kept between the club fitter and the golfer.
Specifically, each golf fitting components will be sanitised after every use with alcohol sanitising wipes.
Particular attention is given to the sanitising of the golf club grip and the passing of component clubs between fitter and customer •
Golf balls used in the club fitting will be kept clean and avoid any possible cross-infection between customer and fitter
Golf Coaching Golf Covid19 Practices
A similar practice to the golf club fitting procedure.
There will be a 2-metre exclusion zone around the lesson tee/golfer that no one enters.
Notably, the coach will use alignment sticks, to point out areas on golfer's bodies specific areas to move.
Certainly, sanitisation is available before, during and after the lesson
The PGA Coach will wash hands with soap and water before and after the lesson.
Essentially, all golf balls used will be clean and sanitized after each golf lesson.
Bookings & Reservations:
Booking a tee time in advance is compulsory using the club's website, booking app, or by phone if the office or pro shop is the point of booking.
We would kindly ask visitors to book and pre-pay online
Each golfer booked will be required to provide a phone number and email address to enable contact tracing.
All golfers will be contacted the week and day before arrival with current updates for any changes to golf tee time policies and procedures.
Sanitised trollies and buggies are available for hire.
Players must provide their own golf clubs, hire sets will not be available. ‹
Golfers should arrive in golf attire and change shoes at the car on arrival.
Golf Clubs may consider requesting that each golfer that plays golf at their course will be required to show at check-in that they have signed up the to the contact tracing app for COVID19.
Golf Club Members:
Must be an active club member and plays with a maximum of three guests.
The club would ask golfers not to access the club for 14 days if he/she visited other countries.
Golfers should consider not playing golf is they suffer from serious or unline health issues
Notably, golfers should play golf is there are not required to be in self-isolation and not required to cocoon ‹
All golfers should stay at home if displaying Covid19 symptoms and follow HSE guidelines.
Club members must have a reserved tee time to access the golf course.
Golf Clubs should consider how to help members subscriptions with illnesses that would deter members from playing golf.
Ask each club member register for the HSE contact tracing app for Covid19.
The Club House:
There is limited access to the clubhouse, Pro Shop and toilets.
Toilets will have open entrance doors and are cleaned regularly.
Hand dryers are disabled, with disposable paper towels provided.
The Locker rooms, restaurant, function rooms and bar are closed.

However, depending on HSE guidelines we would like to offer a pre-order menu to golfers where they can pick up food items at agreed times.  ‹

Sanitised trollies and buggies are available for hire and single person use only at all times.
Golf Clubs should update their policies and procedures to deal with people that are not following the updated policies and procedures.

Ask the persons to leave the club groups
Suspend members from the club and using the club facilities.
Food & Beverage:
Clubs club consider erecting a canopy as a service area that would cater to food and drink dispensing machines.
Operate a pre-order food system from a limited menu and add a collection time to collect the order foods.
Provide an area for sitting and eating only. Perhaps add a 15 minute time-limited for eating.
Practice facilities:
Ensure to remain 2 meters or more from each person while putting on the practice putting green.

Depending on the size of the putting green, limited the number of golfers on the practice putting green that is deemed safe.

Remain 4 meters or more away from the next person on the practice group

Set up the range to reflect social distancing procedures and policies.

Ensure that there are sanitising stations located where required.
On the 1st Tee:‹
Golf clubs should make up their own approach on groups restrictions. Such as how many players to play and what time intervals. I don't see anything wrong with groups of 2, 3 or 4-balls at 10-minute tee times. Essentially, the goal is to avoid a mass grouping.
Arrive at the 1st tee no more than 5 minutes prior to the reserved tee time. ‹
Provide a car-park or golf assistant service to help direct arriving golfers on where to go to the 1st tee and explain what services are available to the golfers. (Also, it is worth noting that even if you email all this information prior to the golfer's arrival, some golfers will forget or misunderstand the information sent). Therefore, a person working on hand will be of benefit.
Golf Clubs should add social spacing signage identifying 1st tee waiting-areas. ‹
Any player(s), not following directions will be asked to leave the course ‹
Tee off times strictly observed to ensure minimum 10 to 15-minute group spacing
Remove, any type of giving away items, such as scorecards, tees, pencils, ball markers and pitch repairs. ‹
It's best to remove caddies services. Such as the caddie services where he or she is carrying one or two bags. However, a forecaddie service can be retained by adhering to the social distancing policies.   ‹
On Course:
Physical distancing observed throughout, particularly on tees and greens
Bigger Rubbish bins to cater for any food and beverage products
Remove from use;

Ball washers
Water dispensers
Bunker rakes removed, players to smooth sand and do the best they can
Perhaps introduce a local rule that golfers can smooth over the sand and replace the ball prior to playing the shot ‹

All Players play ready on course golf.
Flagsticks to remain in the hole and do not touch.
Place the hole cups inverted for contact-free ball retrieval.  ‹
Players should remind a minimum of 2 meters apart looking for lost balls and remember golfers have only 3 minutes to locate a lost ball.
Avoid sharing golf equipment, food, and drink.
Golfers must not touch another player's equipment or golf ball. ‹
Players must not shake hands or touch other players at any time.
Apres Golf:
Since the 19th hole is more or less off-limits for this period of time. May I suggest the following actions:
Post round, golfers should to return to their transport and travel safely to their next destination.
Bathrooms to remain open and please sanitise before entering and departing the bathroom.
Please avoid hanging around the golf club and depart as soon as possible.
Log your activity details into the HSE contact tracing app.
Finally, the lists can be extended to the golf clubs needs and requirements. Also, Golf Clubs should conduct a risk assessment for areas around the golf club grounds that maybe create seasonal golf traffic bottlenecks where there is likely to be more activity.  Certainly, be safe and practice the best policies when and where possible.
Notably, Contact US | john@johndooleypga.ie | Tel. +353879277997 | www.johndooleypga.ie