Ladies and gents Couples Golf Lessons Cork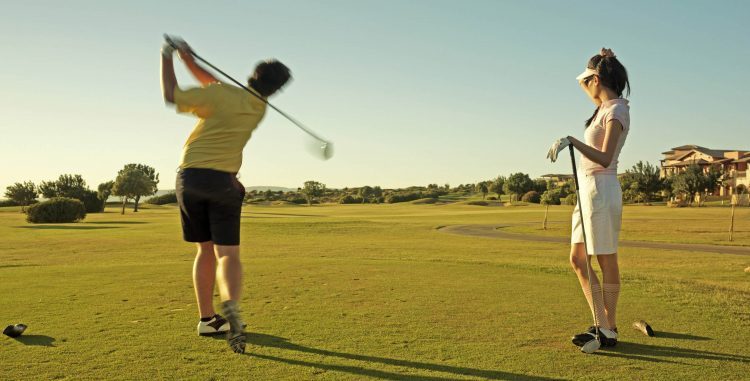 Five great reasons for couples to learn to play golf together.
Indeed, learning to play golf is always tough to do by one person. However, couples golf lessons cork is a great way to learn to play the game. Notably, the single golfer requires a great deal of self-motivation to play and practice golf frequently. Couple golfing together a wonderful learning experience for the following reasons.
Couples Golf Lessons Cork
It is nice for herself and himself to play games of golf together. Resulting, the couple spend more time enjoying each other company playing golf!
As both partners play golf. Sometimes playing golf takes more time than it should. Therefore, the length of time taken to play is understood by both partners, which can lead to a less stressful relationship.  
  the couple plays more and more golf! It is likely that the couple will make time to practice golf more often together. Also, there are a large amount of golfing holidays for couples to enjoy the world over!
Indeed, the couple can both join a golf club and expand their social circle. Also, the couple integrates into the golf club social scene attending more social events.
Possibly, the best outcome is that a golfing family is likely to make golf the family game and their kids are likely to play. Also, helping along with growing the game of golf.  
Couple Golf LEsson plan
The following is an outline to a six week course for two golfers learning how to play golf together. 
Golf Swing, working on the golfers fundamentals and hitting balls with Irons. 
Putting and how to putt effectively. 
Pitching and working at hitting the ball close to the flag from 40 to 80 yards
Driving the ball
Chipping around the green
Iron Shot and overall golf swing technique.
The goals over the six golf lessons are for the couples to practices and play together.  The golf lesson plan is focused on each aspect of the game. Finally, it's very important for the couple to enjoy the coaching experience and have a laugh. Couples Golf Lessons Cork.
Click here to read about how to acquire golf skills. Also start thinking about a golf weekly POA! 

Click here to contact us about couples golf lessons

Golf Lesson plans for couples. 
3 x 45 minute golf lessons €240.00 per couple 
4 x 30 minute golf lessons €200.00 per couple
Each session is customised to the couples to improve golf swings, driving, iron play and short game. The short game may consist of shipping, putting and bunker shots. 
Notably, Contact US | john@johndooleypga.ie | Tel. +353879277997 | www.johndooleypga.ie